TV Audio Streaming - How to get audio & video synchronized?
For quite a while I am trying to connect wireless speakers (active speakers with Arylic Up2Stream Mini integrated), to a television set. This seems simple, but appears to have a lot of challenges.
This is my idea about the configuration concept: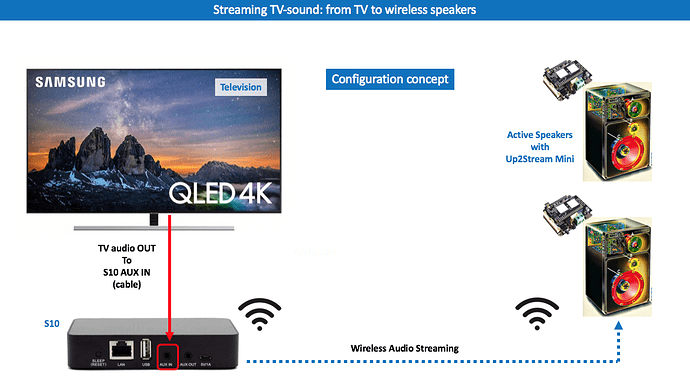 Setup:
Television as the sound source
TV Audio Out connector, used for a wired connection to the AUX IN on the Arylic S10
2x active speaker made wireless by integrating Up2Stream Mini
4Stream App used to add the two speakers to the S10, functioning as one group.
When switching thew S10 to Line IN, it will stream the sound coming from the TV.
Problem:
There is a time lag of almost 2 seconds between the audio and the video. When watching the screen, someone saying 'Yes', it will take almost 2 seconds before the sound is there. The situation looks like this: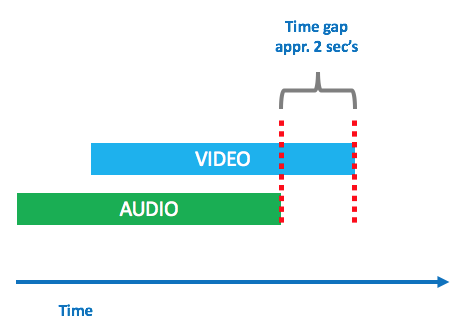 Watching a movie or talk show with this delay is really horrible.
Consideration
Obviously, it is not a surprise that in this setup, audio 'travels' slower than video. I am aware of these reasons:
The audio is converted from analog to digital in the S10, and once again from digital to analog by the Up2Stream Mini in the active speakers. This takes time.
The Up2Stream Mini probably has limited processing power, to do the conversion calculations fast enough.
What I need:
A television that is able to slow down the throughput of video. (Slowing/delaying the audio will only make the gap bigger, so won't work)
Or any other setup that makes my idea work.
What I tried:
Some televisions have settings called 'lip-sync' or 'audio delay. In some cases, 'audio delay' settings can be made in - and in +. So + means more delay, and - means less audio delay.
I have found TV's that settings to decrease the audio delay (so the minus setting), but in reality there was zero effect.
Also I found out that some TV's have settings for 'lip-sync' or 'audio delay', but it only works on one of the audio outputs, not on all.
My questions:
Does anyone have experience with streaming audio from a TV with Arylic products, and managed to have no delay between audio and video?
Is there any way I can create a setup that works with Arylic products?
Any other idea / way?