@Vigo Vladimar,
Never noticed that button before

Will check it out,
Reagrds, Kevin
yes, we're trying to make an 'Audio Settings' option in device settings page, and which would support deep bass, treble, mid, bass, balance, preset EQ, max volume.
And some other suggestions?
Though the bass and treble are resumed when we reboot the device (s50 pro+), deep bass is not.
It would be great all the eq settings (along with deep bass ) are not lost and resumed when we switch on the device
Hello, just started working with my A50+ and APC tool. Does the deep base button on the remote toggle the virtual base setting from the APC tool? I also noticed that VB is disabled when you toggle power to the unit. Thanks
This. Even though these bass boost thingies are usually an absolute no no, it is really useful with some crappy in ceiling speakers I have in some places.
@WillMackey Welcome to the forum.
There are plenty of helpful hobbyists & enthusiasts here and the chat is always (well 99%) positive

Bass & Ceiling Speakers is IMHO a tricky area. To get a good bass sound a solid platform is required by the physical definition of Bass sound (and the law of Physics

). I have no experience with ceiling speakers but I imagine the Bass performance is very much different between a plasterboard, wooden & concrete ceiling.
More of a floor man myself

I have however nearly been tempted towards the ceiling stuff

But never tried it

Thanks, agreed. I don't like ceiling speakers either and have only installed them myself for Atmos. There just happened to be some ceiling speakers already installed in this house in a dressing room next to sauna so I thought to leave them there. They don't sound much without some hocus pocus and d.bass does provide a bit of that so it would be nice to have the d.bass status saved with the other EQ settings.
PS. With a proper back box I'm sure ceiling speakers can sound decent but in my case not possible to install without tearing the ceiling down.
Hi Will, we'll fix this issue in next firmware upgrade. Thanks for your feedback and patience.
That would be amazing !!!
Great to hear, thanks in advance!
Hello, DB saved would help a lot. Also i would be pleased.
In addition a DB buttom in the App would be great too
Regards Frank
This would probably be a good reason to also use the Sub Amp. I would imagine that with ceiling speakers the Sub Amp would make a great combo.
Hi arylic team,
I would be verry happy if there anytime will come a solution.
Either the db status is saved after pwoer off-on or a switch in the app.
One of this things would raly help
Regards Frank
Hello! I am also very happy to hear that deep bass status will be preserved after power cycle.

Do you have any timeline plan about this next firmware, when can we get it?
And will this deep bass setting be available from the 4stream application as well?
Thank you in advance!

Hi, we're still testing the firmware, I hope it would be ready in one or two more weeks. And for the sound effects, have improved it in the web UI.
This is the screenshot, so would be able to adjust on PC or phone at least.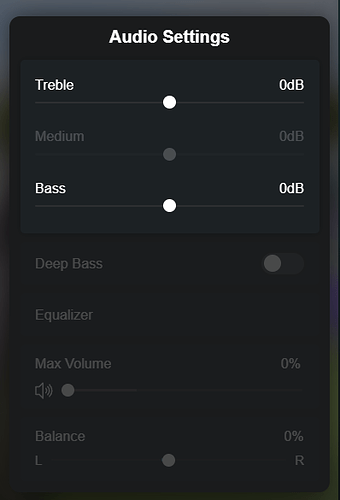 what about the sound presets?
can save the sound presets in group 1 to 9 with name, and show the name in Equalizer, so user could choose it. And still wokring on it, need to consider carefully.
i mean retrieving the sound preset
as saved in the acp workbench