Hello,
I designed my own PCB with ADC-Keys to control the media playback, but unfortuantely none of the buttons are working properly.
Based on the schematic in the AMP2.1 User manual, I made my own schematic with some of the ADC Keys (see picture below). Since I do not have a 27K resistor I used a 22k+5.1k resistor in series and instead of a 3.6k resistor I used a 3.3k+0.33k resistor in series, thinking these values should be close enough for such a voltage divider.
But unfortunately none of the buttons are working as they should be. Some aren't detected at all while some are being detected as something else.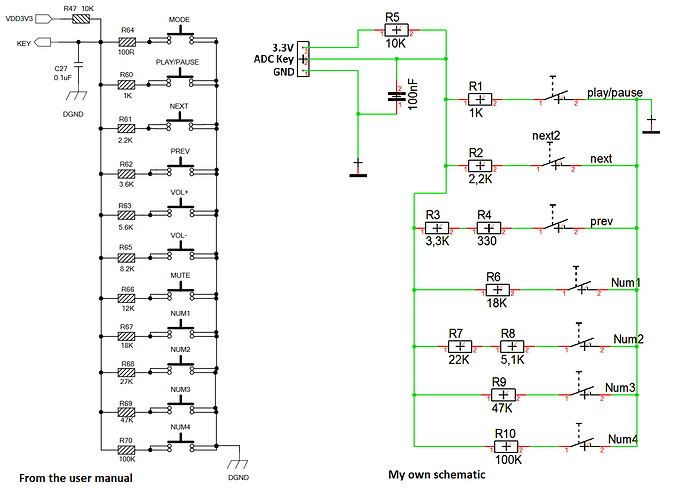 The "Play" buttons plays next song
The "Next" button plays previous song
The "Previous" button decreases volume
Num1-Num4 are not working at all, even though I have presets defined in the 4stream app and I can start theese favorite presets from the app.
3.3V is hooked up to the pin on the very left, GND to the second pin from the left and the output of the voltage divider is hooked up to the second last pin.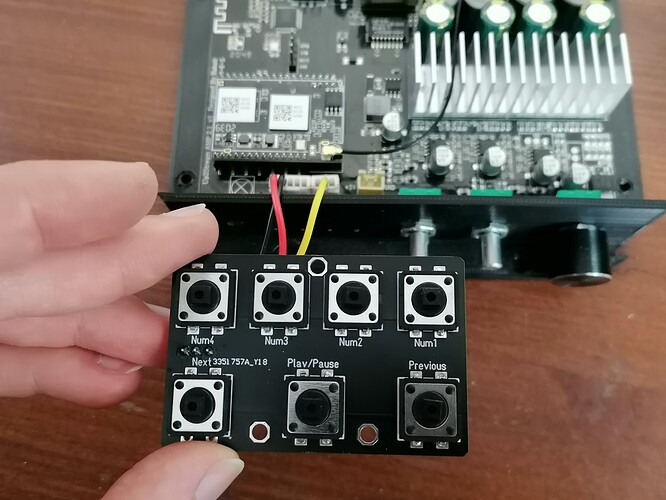 Did I hook up something the wrong way or is the schematic in the manual outdated / incorrect or what else could be the problem here?