Hi folks,
two weeks ago I realired a small project to jazz up my old Denone bvookshelf speakers to give them a second life time as wifi speakers in my house.
My main work was to remove the original backface hatch, that normaly provides the speaker cable terminals, bass reflex tube and inside holds the frequency seperator filter for the speaker chassis. So I made a pair of new backface hatches to hold the 230V mains socket. A little challange was that i had to provide a new bass reflex tube, as the original was in one piece with the old hatch. As i did not get a reflex tube in the orginal diameter a little calculating was neccessary to have enough low frequency power

The formula is found in the net.
The wiring is really easy and straight forward. To have enough power for the TPA3116 stereo amplifier i used a 230V / 24V / 6A power supply you can get more or less chaeply from ebay sources. There i have a direct connection to the TPA3116 amplifier and to the DC/DC converter. The DC/DC converter is a RECOM R78E5.0-1.0 with 5V/1A output. Expensive but very good quality. The DC/DC converter supplies the Up2Stram mini with its 5V voltage feed.
The audio wiring is also straight forward. To connect the Up2Stram mini with the amplifier i used a standard stero cable with 3.5mm stereo jack on each side, as the amplifier also has a 3.5mm stereo bush. The amplifier is connected to frequency separation filter via regluar speaker cable as well as the speaker chassi is connected to the frequency separation filter.
On the wifi side I had also a little challange as my DSC DHCP Server (bind9) had some communication issues when takling to the wifi module. Somehow it was immpossible to pass an new IP address to the module, also it was requesting that new IP address. After a lot of trying i switched to the ISC KEA DHCP Server where it worked like a charme from the beginning. This was also good as the KEA server ist he more modern one of both.
Currently every thing is working fine. One little problem still resits as i have no physical access to the Up2Stram mini module. Thus it is not possible to enter wifi setup mode without removing the backface hatch. This happens if i bring the Speakers to a party of my friend where i have to join a wifi network that is differen from mine. Nevertheless we do this cause we really enjoy the streaming features oft he Up2Stream to music to our party.
Talking to Arylic help desk (thank you Joy for your patience with me :-)) they promised me that entering the wifi setup inside the app may be possible in the future. I also placed two feature requests to a) maintain the last action (i.e. playing a specific radio station) of the module during a power down cycle and b) maintain grouping/assignment of modules (i.e. rooms) during power down cycles. Both requests make it possible to continue the operation quickly after a power down situation without juggling with the cell phone app. This is very much appreciated during party scenarios

With these requests Arylic help desk also gave me hope that this will be implemented in the future. So i keep my fingers crossed, but i am very positive about this as the communication with the help desk prooves excellent.
So i hope you enjoy this little project and the related pictures. If there are questions - they are welcome.
All the best
Zimmer
New backface hatch:

Inside arrangement: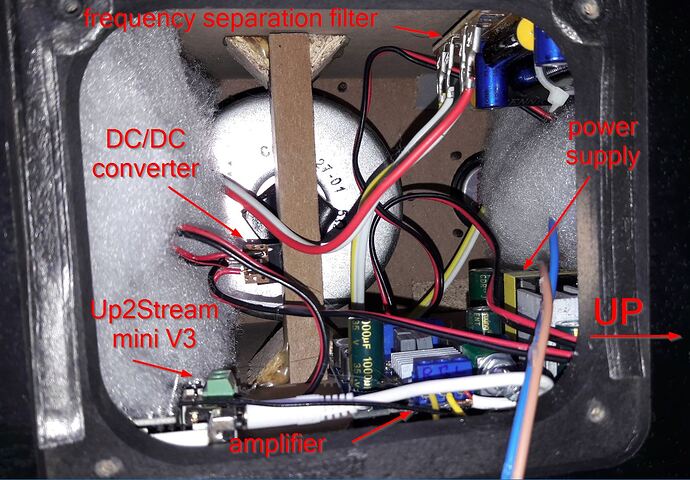 Wiring diagram: