I have had several builds where I combined Up2Stream Mini with an active speaker (amplifier built into the speaker). But my problem is that I often have 'Ripple' as a disturbing signal. Sometimes it is hardly hear able, and sometimes it suddenly increased.
This is what my build looks like. I integrated everything inside the speaker casing:
230v AC > 5v DC converter - I used the official Apple iPhone USB charger as the AC/DC converter. It is small and easy to build into narrow spaces (and its 'cleaner' than a lot of step-down converters one buys online). The iPhone charger gets 230v AC from the incoming 230v AC power in the active speaker.
Up2Stream Mini - Powered by 5v DC coming from the Apple iPhone USB charger. For audio signal connected by a shielded audio cable: mini-jack on the Mini side, and connected to the audio in connector (RCA/Line-in) on the amplifier side.
See the drawing below.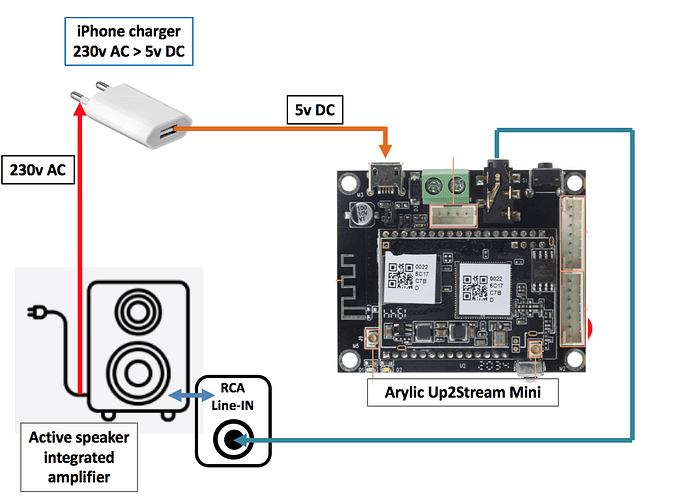 Question
How can I eliminate the Ripple disturbance?
I have a recording of the Ripple sound. If you want to hear it, let me know how I can send it over to you.