Introduction
I am an audio enthusiast, I like innovation and new technology. But in the audio space I am also very much a 'hybrid' guy. I like the analog HiFi equipment from the '70s, I like DAC's and streaming technology, and I like to make combinations.
So for one of my projects I liked to make such a hybrid setup. Here's what products I took to start with:
This is what I added:
Arylic Up2Stream Mini v3, wireless modules to get the Philips MFB speakers connected.
Arylic S10 streamer box as a hub between the MFB speakers, the turn table and any music streaming service.
The setup I created looks like this: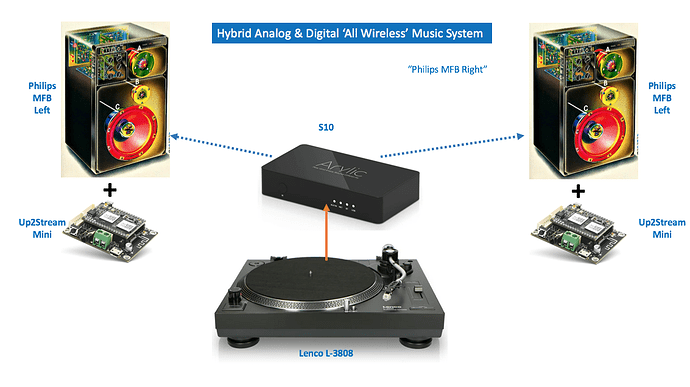 Speakers: The Up2Stream Mini's have been integrated inside the Philips MFB. They are active and have their own PSU and Amp. So power for the Up2Stream was no issue. The WiFi antenna was led to the outside of the speaker casing (backside) for good WiFi signal.
Turntable: The Lenco L-3808 has its own pre-amp built-in. The audio-out of the Lenco is connected to the audio-in of the S10. But since the S10 is so small, it can easily be put out of sight. This way the turntable does not need any amplifier near by, and can be put at any location with a wall plug nearby. (Women will love that!) The Lenco has a switch on the backside, it should be positioned to 'LINE'. This way the signal from the Lenco will be pre-amplified. Enough to work with the S10.
Configuration: The 4Stream App is used to configure the right setup of the S10 and the 2 MFB speakers. On the left screenshot you can see (from top to down) the Lnceo HUB which is the S10, the left MFB and the right MFB speaker. In the right screenshot, they have al been combined to one system. Note; its important to start with the S10/Lenco HUB, and add the two MFB speakers to the Lenco HUB. This way, the S10 will be the combining hub for all ways of playing music.
Let's play music now!
Streaming music: Start music from for instance Spotify, and choose 'Lenco HUB' as your speaker. Music will sound from the MFB speakers.
Streaming vinyl: Put a record on the Lenco turn table, and switch the music source in the 4Stream App, from 'WiFi' to 'Line' (see screenshot below). Or use the remote control that comes with the S10 and just push the LINE button on the remote.
Conclusion
If you like streaming and vinyl on turntables, I guarantee this is a fun project and friends visiting you will be astonished.
Have fun and enjoy!