Hi,
here is my project description: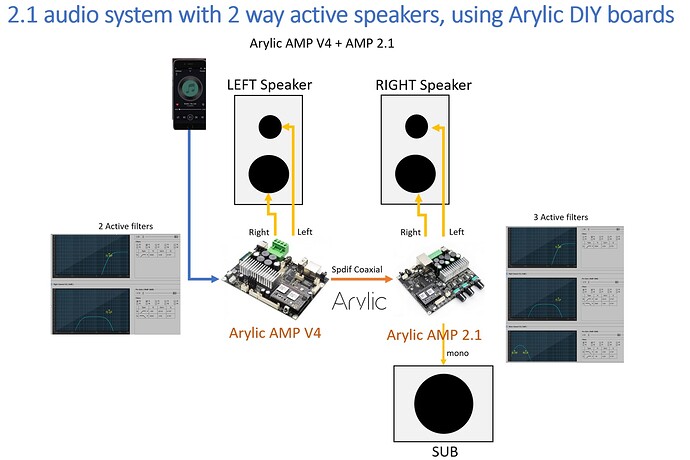 I spent a long time to sort out an issue with the Spdif connection not working, when in fact, it was, but… the volume on the receiver with spdif IN was sooo low compared to the main board speakers (amp v4) that was not hearing the speakers. My bad.
So, I pushed the spdif input to the max with ACP workbench, plus changed the volume balance with the phone app, and now both cards play at the same volume.
With ACP workbench I have set the output of the left board with the LEFT audio Signal, and the right signal for the board driving the right speakers.
BUT: I realized that the SPDIF OUT of the AMP V4 is affected by the filters that I have configured to drive the Left speakers. The goal being to build active speakers, I have set a high path filter for the tweeter channel (left channel of AMP v4) and low path for the boomer.
so, in fact, the AMP 2.1 board, receive only the filtered sound of the music left channel


So, l'm stuck, wondering if there is a way to configure the SPDIF out of AMP V4 to send the original signal not affected by the effects chain.
Worse case, is there a pin on the board to capture the signal before the effects, to send it to the second board? May be on the Wifi/Bluetooth board?