As a Patreon subscriber of SoundBlab I saw his latest 2.1 speaker design and got the plans. While the overall size is a good fit for my use I elected not to use the slatted wood grill as shown in the plans. Instead, I went with a more traditional speaker cloth grill and a slight embellishment on the front. The plans are well written and very detailed. The case made of MDF came together in an afternoon and once the drivers - two, four inch full range and a 5.25 inch sub woofer arrived all I need to do was attach the six wires to the Up2Stream 2.1 board. With the board I ordered the power supply and the remote.
The real test was getting the board integrated to my network and having Airplay discover the speaker. This process was really quick and very easy to add to the network and iTunes desktop and phone let me access the speaker easily. The whole process from first power on to Airplay was less than three minutes. Prior to playing there is no background hiss or click on WiFi mode and switching to Bluetooth is the same quiet between songs. Just to fully test the inputs I hooked the source up to my computer via analog and USB with both working perfectly. On / Off test does it remember the network - yes it does. If the unit is unplugged and sat for several hours does it remember all the settings - again yes it does. Yesterday I played music for over fours hours with no degradation in performance. This is a real winner!
I do not have the equipment to measure the full frequency response but to my ears this easily beats my SONOS Play speaker and is a good candidate for a soundbar driver. The remote may seem like a trivial piece but it feels great in your hand and has a nice layout of controls. My next step is to look at adding the preamplifier version of this board to a battery powered portable speaker I built several years ago that currently only supports bluetooth and analog inputs.
Completed Pictures: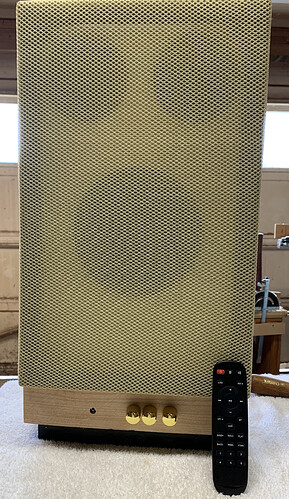 Testing in the garage

Closeup of the front panel where I laminated a thin strip of maple to the box and found the knobs on Amazon.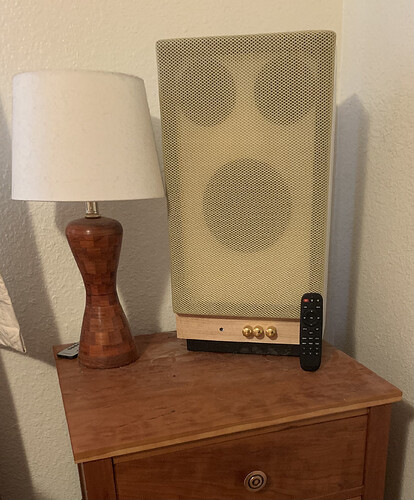 Completed speaker in place with the remote. BTW, I made the lamp and the nightstand.