Hi,
A quick view on my latest project based on the Arylic DIY board (AMP 2.1). An evolution of the mono version (see the article here) towards stereo mode.
Twin pryamids (well, not real twins…) with the master including the Sub woofer (Tang Band W5) + AMP 2.1 board, and the small one (right channel) with only the medium and tweeter, for an optimisation of the volume. They are separated by several meters to get a good stereo mode.
As the Sub frequencies cannot be localized by our human ears, even if located on the left, the bass seem to come from "everywhere".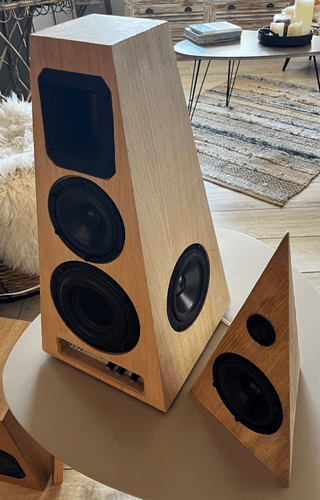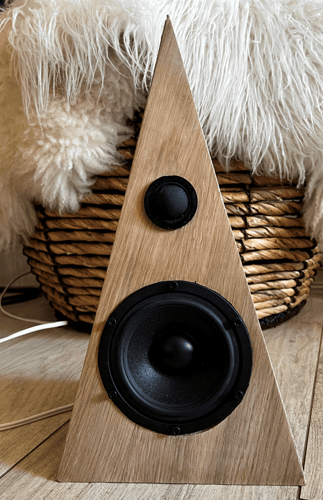 The design is based on a very powerfull Arylic 2.1 board (2x50W + 1x100W sub), supporting WiFi, Airplay, Spotify Connect & Bluetooth 5.0: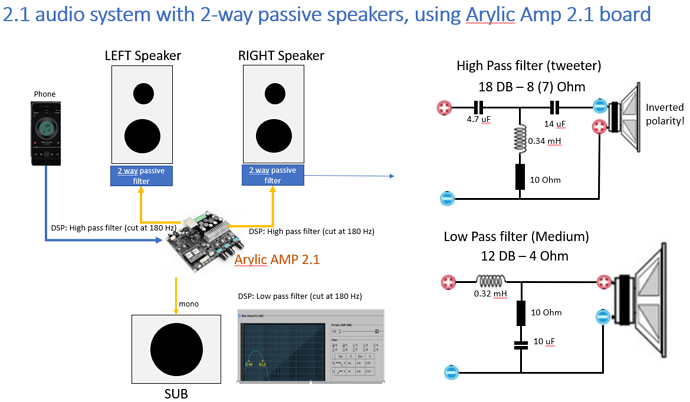 Note that I used the DSP integrated into the Arylic Amp 2.1 in order to:
send only the bass to the sub channel with a low pass filter
Remove the bass signal sent to the medium & tweeter via a passive filter of each channel (cut at around 3k)
Adjust the equaliser for each channel in order to correct the passive filters/wood boxes and speakers impact on the signal linearity.
The result is quite cool and the volume generated overal quite impressive! The sound remains clean even when pushing the volume to the max, with the Class D amplifiers.
Hoping it can give you some ideas for your next DIY project