Hey All.
I am getting inconsistent results when attempting to setup the ADC buttons based on the specs: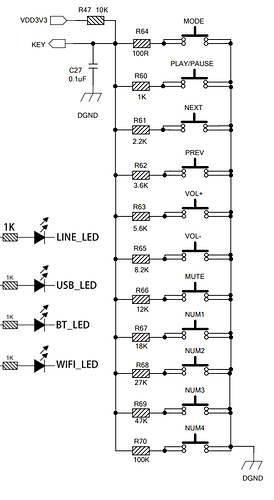 This applies in my case to the 2.1 amp. The only functions I have managed to successfully implement are:
On/Off (not documented. discovered by accident)
Mode
Play/Payse
Next
But even these are not perfect. Based on 3.3v supply, I have calculated the following voltages based on the resistor value specified. Note that - applying 0V to ADC seems to switch the amp off/on, the play/pause function is approximately what I would expect, but the the next button needs 1.6v to activate. Then I have been unable to successfully achieve prev/vol-/vol+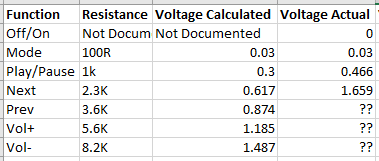 Strangely - if connected to WiFi and streaming via Spotify Connect, 'Next' works fine at 1.6v. However, if I switch to Bluetooth and disable WiFi, play/pause works at 0.46v but 'Next' changes the input back to WiFi.
Either I have completely misread the specs or I am doing something wrong, or it's not working as expected. I was hoping there may be others who have been trying to setup the adc buttons based on the documentation and might be able to share some outcomes? There are some voltages where I hear the 'button' sound from the amp but no function seems to activate. Originally I thought that maybe the specs should have been applicable to a 5v supply - but this doesn't match up either.