Hi,
That's a really nice piece of work, it looks like it's been well thought out and I love your attention to detail - well done
Steve
Thanks.
Now i have a problem testing the streamer.
Dac 1:
L= music with distortion (crackle)
R= OK
Dac 2:
Ok
Dac3:
L= music with distortion (crackle)
R= OK
Dac4:
Both ok but very high volume, can't turn down the volume with the 4stream-app or phone
Everything is connected the same way…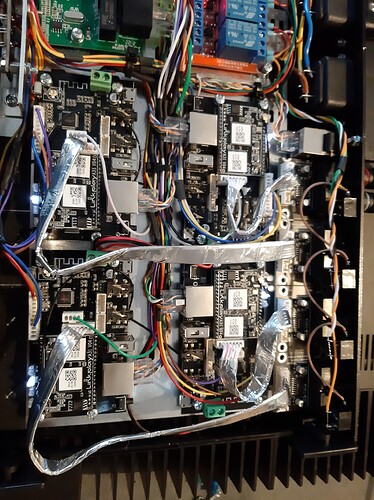 Solved. Alu-tape as shielding.
If i connect all 4 boards together on the smame source (spotify) with the 4stream app there's always one board where i can't control the volume.
No problem with 3 boards with the same source.
I think a glitch in the software?
Hi,
It's great to hear that you solved your I2S issues, it's always good practice to keep those interconnects as short as you can to avoid pickup of stray noise.
I don't have the necessary connection crimpers to make my own cables so usually end up shortening my I2S cables with solder joins.
I haven't come across the volume control issue.
Cheers,
Steve